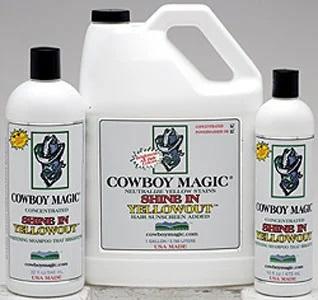 Cowboy Magic Shine In Yellowout Shampoo
An effective shampoo that helps to reduce the appearance of yellow stains. Leaves hair bright and shiny. 
Simply apply to wet hair, massage in until the blue suds turn white. Soak for two to five minutes, then rinse well before repeating, if necessary.
Permanent Stains:
Nature can permanently stain hair color. To determine if a stain is permanent or not, soak stained hair in a 50/50 mixture of vinegar and warm to hot water for two to five minutes.
Re-apply SHINE IN YELLOWOUT™ per directions. If stain persists it may be permanent. Continue to follow directions to minimize permanent yellow stain until hair can grow out.
ALLERGY TESTED AND DERMATOLOGIST REVIEWED