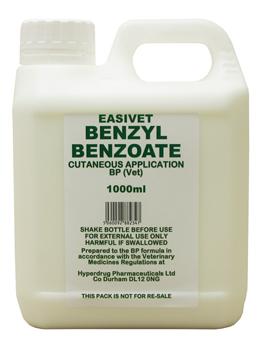 EasiVet Benzyl Benzoate Application 1L
BENZYLEASI
EasiVet Benzyl Benzoate can be used to maintain healthy skin and coat. It is recommended to be used during the Spring time. Apply with fingers or a soft cloth when skin problems arise and continue through the season.
For external veterinary use only.
Initial application of 75ml should be made twice a day, reducing to once a day and then to 3-4 times a week as irritation lessens.
All affected areas should be kept clean by shampooing and rinsing well at least once a week.
After shampooing or exercise re-apply to ensure adequate protection. Horses liable to seasonal problems should recieve an application in early spring before these occur.
Protective vinyl or rubber gloves should be worn. Avoid contact with eyes - if contact should occur rinse immediately with plenty of water.
HARMFUL if Swallowed, DO NOT induce vomiting, seek urgent medical attention showing product label.
Dispose of empty packaging and any remaining product as household waste, do not recycle used containers.