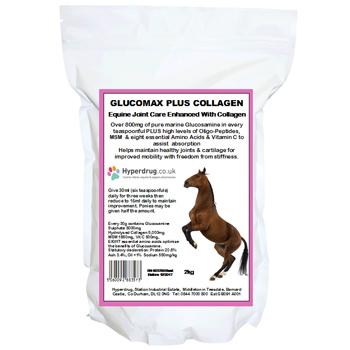 Glucomax C Equine Advanced with Collagen
An Equine Joint Care Supplement enhanced with collagen. Comprises of over 800mg of pure marine Glucosamine in every teaspoonful with additional high levels of Oligo-Peptides, MSM  & eight essential Amino Acids & Vitamin C to assist  absorption. Helps maintain healthy joints & cartilage for improved mobility with freedom from stiffness.
Glucosamine is essential in both production & maintenance of healthy cartilage, tendons, ligaments & synovial fluid.
Glucosamine has similar properties to Chondroitin but is better absorbed by horses whilst MSM provides organic sulphur which may be deficient in joints.
Give 30ml (six teaspoonfuls) daily for three weeks then reduce to 15ml daily to maintain improvement. Ponies may be given half of this amount.
Every 30g contains Glucosamine Sulphate 5000mg
Hydrolysed Collagen 5,000mg
MSM 1650mg, Vit C 500mg,
EIGHT essential amino acids optimise the benefits of Glucosamine.
Statutory declaration: Protein 20.6%
Ash 3.4%, Oil <1%  Sodium 550mg/kg