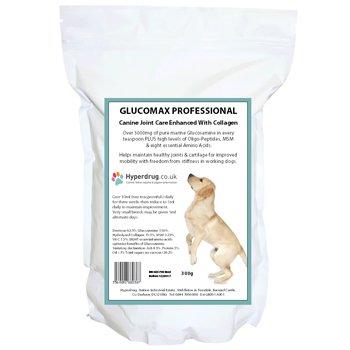 Glucomax D Professional (Glucosamine, MSM & Collagen) For Dogs
Glucosamine is essential in both production & maintenance of healthy cartilage, tendons, ligaments & synovial fluid. 
Use to maintain healthy joints and cartilage in dogs.
Contains over 800mg of pure marine Glucosamine in every teaspoon PLUS high levels of Oligo-Peptides, MSM  & eight essential Amino Acids.
Directions:
Give 10ml (two teaspoonfuls) daily for three weeks then reduce to 5ml daily to maintain improvement. Very small breeds may be given 5ml alternate days.
Every 30g contains Glucosamine Sulphate 5,000mg, Hydrolysed Collagen 5,000mg, MSM 1650mg, Vit C 500mg, EIGHT essential amino acids optimise the benefits of Glucosamine. Statutory declaration: Protein 20.6% Ash 3.4%, Oil <1%  Sodium 550mg/kg