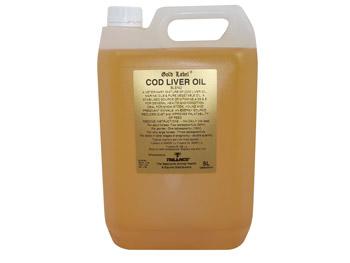 Gold Label Cod Liver Oil
Gold Label Cod Liver Oil.
Description:
A veterinary mixture of Cod Liver Oil, Marine Oils and pure Vegetable Oil. A stabilised source of vitamins needed for general health and condition.
Ideal for show stock, young and pregnant animals. An energy source which reduces dust and also improves the palatability of feed.
The Omega-3 fatty acids, alpha-linolenic acid (ALA), eicosapentaenoic acid (EPA), and docosahexaenoic acid (DHA), are linked to a wide-range of health benefits. Research has shown that increased levels of EPA & DHA such as those supplied in Omega-3 oils may help to maintain pain-free, supple and mobile joints in dogs.
Image shown is for illustration purposes only