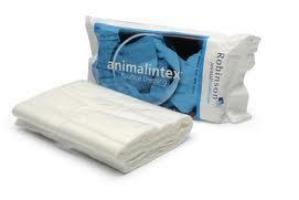 Animalintex Poultice
ANIMLINTEX
Each pad contains:
Boric acid Ph. Eur 2.08 g
Tragacanth Ph.Eur 6.02 g
The poultice may be used as follows:-
1.HOT
For infected or dirty wounds, hoof punctures, abscesses, coronary band abscesses, quittor-in-the-hoof, thrush, corns (infected or sterile), bruised sole, seedy toe, laminitis, sandcrack, the removal of thorns, and 24 hours after an injury to provide warmth for bruises and contusions.
2.COLD
For bruises, contusions, laminitis and the first 24 hours of any inflamed injury with heat and/or swelling, followed by hot application for warmth.
3. DRY DRESSING
To stop bleeding, protect from further infection, treat wounds and promote faster healing.

Do not use with medical preparations except on the advice of a veterinary surgeon.
Should not be used on horses known to be sensitive to Tragacanth.
Bulk Discounts