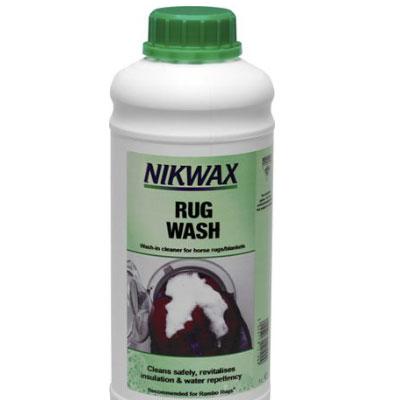 Nikwax Rug Wash
Features:
* It prolongs the life of horse rugs and optimises performance
* It maintains breathability
* It maintains original water-repellency
* It's easy to apply - can be used in a domestic or commerical washing machine
* Suitable for use on all rugs -, including those with breathable membranes
* It lifts out dirt that can attract water and mask water repellent finishes
* Unlike conventional detergents, it does not leave behind water attractive residues which encourage 'wetting-out'
* It will remove detergent residues left behind by previous washes
* WaterBased - environmentally friendly, biodegradable, non flammable, non hazardous
* Does not contain fluorocarbons
Ideal for 
* All equestrian horse rugs including high activity and technically advanced rugs
* Recommended for use on Rambo Rugs
How to apply
Use neat Rug Wash and a sponge or soft nylon brush to treat stubborn stains before washing. Remove all non-washable parts. Shake well before use. Follow care label instructions. Do not use detergents.
Machine Wash:
Remove all detergent build-up from the detergent dispenser.
Place 1 item in washing machine (maximum 1 rug per load).
Ensure washing machine is large enough to allow freedom of movement for rug in drum.
Use 150 ml per rug.
Wash according to care label. Choose a cycle that will allow the rug to rinse thoroughly.
Hand Wash (use gloves):
Spread rug on clean area and wet thoroughly with a hose.
Dilute 1 part Rug Wash with 2 parts hot water.
Use brush to scrub the solution into fabric paying attention to dirty areas.
Rinse thoroughly in clean water.
Drying:
Air dry or tumble dry on a low setting if care label allows.
Proof rugs at least once a year with Nikwax® Rug Proof. No need to dry item(s) before waterproofing. Refer to Nikwax commercial leaflet for commercial washing.