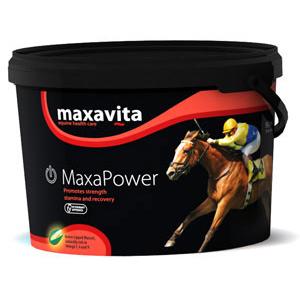 Maxavita MaxaPower 900g
MAXAPOWER
Designed especially as a muscle and energy supplement to support healthy circulation and promote optimal muscle function in hard-working horses. Contains high amounts of essential animo acids, Green Lipped Mussel and Gamma Oryzanol (Rice Bran Oil) to encourage muscle growth and strength, in addition to supporting stamina and recovery. 
Ideal to give to hardworking horses, helping to give them an energy boost.
For optimum results, feed to horses undertaking strenuous exercise or a minimum of daily work.
Feeding Guide:
1 level scoop (30g) daily added to feed.
Ingredients per 900g/30 day supply. Per day 1 x 30g scoop
Gamma Oryzanol (Rice Bran Oil) - 30000mg
Creatine Monohydrate - 30000mg
Dimethylglycine (DMG) - 30000mg
L-Carnitine Tartrate - 750mg
Green Lipped Mussel SuPerna - 3000mg
Plus an Alfalfa blend.