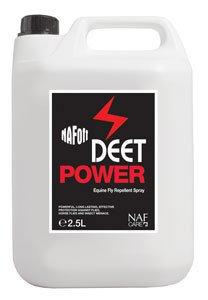 NAF Off Deet Power Fly Repellent
Provides powerful, long lasting, effective protection against flies, horse flies and insect menace
Contains: N,N-Diethyl-m-Toluamide 19.8% w/w Ethyl Butylacetylaminopropionate 5% w/w
Directions:
Shake very well before use.
Apply by spraying over the body.
Avoid contact with eyes and mouth, broken skin and synthetic fibres.
Do not spray near fish or water courses.
As with any new product apply to a test area first.
For external use only.
Fully HSE approved
HSE no. 9264
Use biocides safely. Always read the label and product information before use.