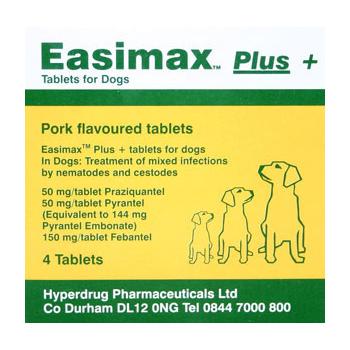 Easimax Plus Dog Wormer Tablets
Easimax Plus Dog Wormer is a new triple action wormer which kills both round and tapeworm plus worm eggs and larvae. Economy and quality guaranteed. Pork flavoured for easy administration.
Each tablet contains:
50mg Praziquantel
50mg Pyrantel (equivalent to 144mg Pyrantel Embonate)
150mg Febantel
Use one tablet per 10kg bodyweight. The tablets can be given directly to the dog or disguised in food. No starvation is needed.