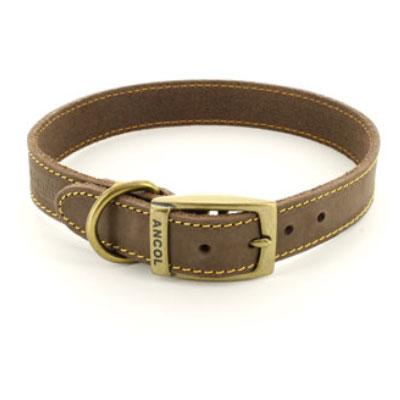 Timberwolf Leather Dog Collar - Brown
Timberwolf dog collars feature top-grain bridle leather that has been hand-crafted by our skilled workforce in the UK. 
Quality top-grain leather is an ideal material for collars as it is incredibly strong, but supple, softening over time but remaining sturdy for a reliable collar that is comfortable for your dog to wear. 
The Timberwolf Collar is treated with 3M leather protector to prevent staining from water, dirt, and oil, and is sewn down both sides with industrial nylon bonded thread for added strength. 
The opulent design of the collar is finished with a D-ring and die-cast buckle in shining antique gold for simple adjustment and lead attachment
30cm/12" (to fit collar size approx 20 - 26cm) 
35cm/14" (to fit collar size approx 26 - 31cm)
40cm/16" (to fit collar size approx 28 - 36cm) 
45cm/18" (to fit collar size approx 35 - 43cm) 
50cm/20" (to fit collar size approx 39 - 48cm) 
55cm/22" (to fit collar size approx 45 - 54cm) 
60cm/24" (to fit collar size approx 50 - 59cm) 
65cm/26" (to fit collar size approx 55 - 63cm)