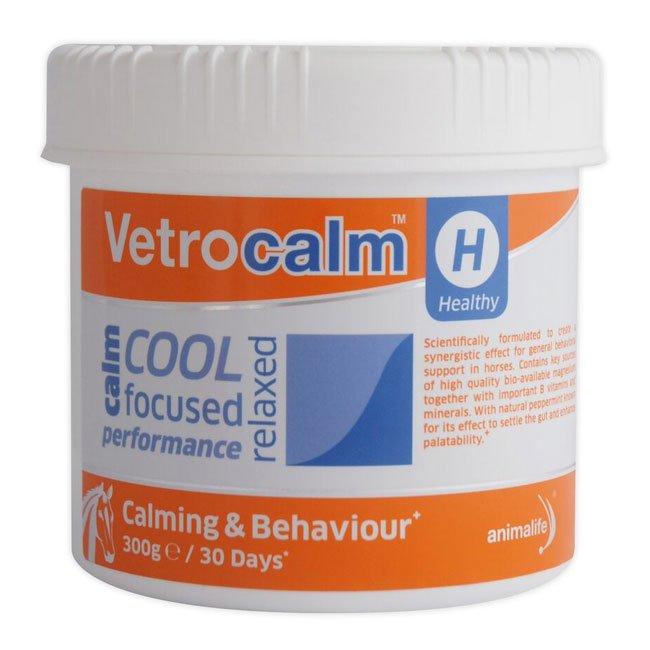 Vetrocalm Health
Vertocalm Healthy is scientifically formulated to create a synergistic effect for general behavioral support in horses. Contains key sources of high quality bio-available magnesium together with important B vitamins and minerals. With natural peppermint known for its effect to settle the gut and enhance palatability.
How it works
Vetrocalm Healthy offers supporting ingredients that help replenish levels of magnesium that may have been lost due to stress, fear or anxiousness. In horses that are highly strung, nervous or stressy on a daily basis, Vetrocalm Healthy can help support the body's physical responses to day-to-day life challenges and encourage a calm attitude in training, handling and when performance matters.
What it does
Contains concentrated bioavailable magnesium at specific ratios shown to support calming and behaviour.
Easily digested, even during periods of stress.
Assists the equine when dealing with stressful situations such as competitions, travelling or training.
Helps manage behaviour issues such as anticipation, nervousness, spookiness, aggression and tension to improve performance.
Free from banned substances making it ideal for competition use.
Assists in supporting overall health and wellbeing.
Nothing compares with Vetrocalm, works like Vetrocalm or delivers results like Vetrocalm.
Complementary Mineral Feed for Horses
Analytical Constituents - Magnesium 14.5%, Calcium 0.48%, Phosphorus 0.0%, Crude ash 71.9%, Sodium 3.35%.
Composition – Magnesium Sulphate, Magnesium Chelate, Sodium Chloride, Peppermint (0.5%).
Additives - Vitamin B3 (Niacin) 2000mg/kg, Vitamin B1, 500mg/kg, Vitamin B6 500mg/kg.
Formulated with Specially Optimised Bioavailable Formula (SOBF) technology to ensure optimal absorption of the ingredients. Free from banned substances.
Feed Vetrocalm Healthy every day, to horses that can be highly-strung, tense and nervous. Vetrocalm Healthy provides the optimum levels of magnesium in a blend designed to promote calm behaviour and reduced stress levels in all horses. For particularly challenging situations, such as during travelling, competition or changes of environment offer Vetrocalm Intense INSTANT as a boost
Feed at rates shown. 1 x (10ml) level scoop as supplied = 10g approximately. Ensure clean fresh water is always available. Hay or other forage must be available. 
Use a loading serve of Vetrocalm™ for up to 7 days, followed by Maintenance serve. Where practical, split daily serve into AM and PM servings. 
For animal use only. Serve dependent on the individual animal but as a guide. Store in a cool dry place out of direct sunlight. Replace lid after use. This product is not a Veterinary medicine which is subject to authorisation. All information correct at time of print. 
Horse Size
Loading daily feed rate
Maintenance daily feed rate
Small Less than 300 Kg 3 Scoops 1/2 Scoop
Medium 300 - 600 Kg 6 Scoops 1 Scoop*
Large > Over 600 Kg 9 Scoops 1 1/2 Scoops