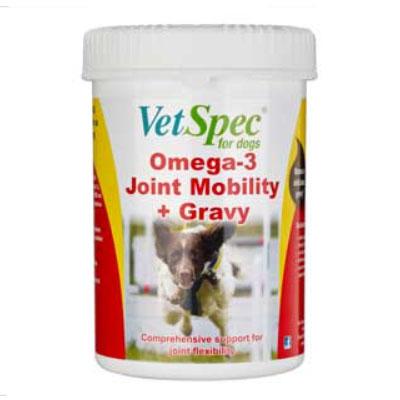 VetSpec Omega 3 Joint Mobility + Gravy 500g
VETSPECO3J500G
Simply mix with warm water to produce a tasty gravy which can be poured over your dog's food. Extensive palatability trials have been enormously successful when mixed with either dry or wet food, tempting even the pickiest feeders to enjoy their meal and joint supplement.
Product Benefits:
Rich in pure DHA and EPA (omega-3s), glucosamine, MSM and chondroitin to optimise joint health and flexibility.
Includes Anti-oxidants to help reduce oxidative damage
Wheat gluten free
Full traceability of all ingredients
Technical Focus
Omega-3 fatty acids are considered essential fatty acids (EFAs). They are necessary for health but the body can't make them, therefore, they have to be provided by the diet. Eicosapentaenoicacid (EPA) and docosahexaenoic acid (DHA) are both omega-3 fatty acids and oily fish and fish oil supplements provide a very good source.
Dogs with inflammatory conditions, such asarthritis, can benefit from supplementation of these omega-3s which reduce the production of inflammatory substances. Research has demonstrated an improvement of clinical signs in dogs with arthritis when supplemented with omega-3 fatty acids.

A 500g tub will provide approx 6 weeks supply for a 20kg dog.