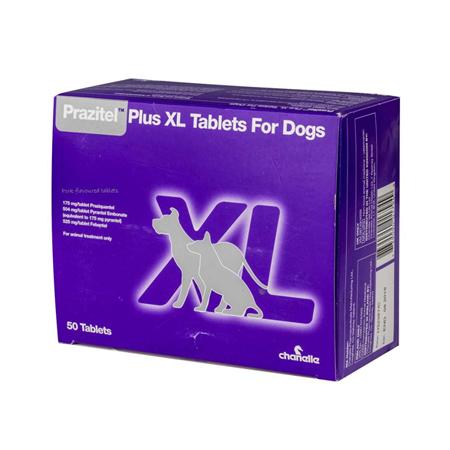 Prazitel Plus XL Dog Wormer
Prazitel Plus+ contains 175 mg Praziquantel, 525 mg Febantel, 504 mg Pyrantel Embonate. It kills tapeworms, hookworms, whipworms and roundworms in dogs.
Uses
For the control of the following gastrointestinal tapeworms and roundworms of dogs and puppies:

Ascarids: Toxocara canis, Toxascaris leonina (adult and late immature forms).
Hookworms: Uncinaria stenocephala, Ancylostoma caninum (adults).
Whipworms: Trichuris vulpis (adults).
Tapeworms: Echinococcus species, Taenia species, Dipylidium caninum (adult and immature forms).
Dosage
For oral administration only.
The recommended dose rates are: 1 Prazitel Plus tablet per 35kg bodyweight.

The tablets can be given directly to the dog or disguised in food.