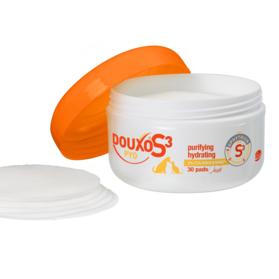 Douxo S3 Pyo Pads (Pack of 30)
DOUXOPP
Focal antiseptic action: Purifying impregnated cotton pads for dogs and cats:  Disinfects thanks to the antiseptic action of 3% chlorhexidine digluconate while hydrating and maintaining the skin's ecosystem. Antibacterial and antifungal efficacy within 1 minute.
Directions:
Apply gently, do not rinse. Once a day.  Do not apply between the toes of cats.
Ingredients:
Ophytrium: a purified natural ingredient with high tolerance and threefold action on the skin barrier:

• Protects the mechanical barrier for supple, durable, hydrated skin

• Preserves the protective microbial flora for healthy skin

• Reduces irritation

3% Chlorhexidine Digluconate, antibacterial and antifungal.
Panthenol (Pro-vitamin B5), moisturises the skin and improves wound healing
Pentavitine provides hydration to the skin
Hypoallergenic Coco-Vanilla fragrance
All DOUXO® S3 products are paraben, soap, sulphate, nanoparticle, colourant and phthalates free.