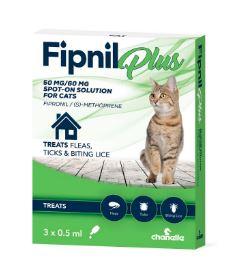 Fipnil Spot-On PLUS For Cats (Pack of 3)
FIPNILPC
Fipnil Plus Spot On Solution
For treatment and prevention of fleas and ticks.
Effective for up to 4 weeks against fleas. Inhibits flea eggs and larvae for up to 6 weeks. Effective against ticks for up to 2 weeks.
Also treats biting lice.  
Not to be used on kittens less than 8 weeks old or weighing less than 1kg. Do not use in sick or cnvalescent animals. Do not use in nursing queens.
Can be used during pregnancy.
Minimum treatment interval is 4weeks.