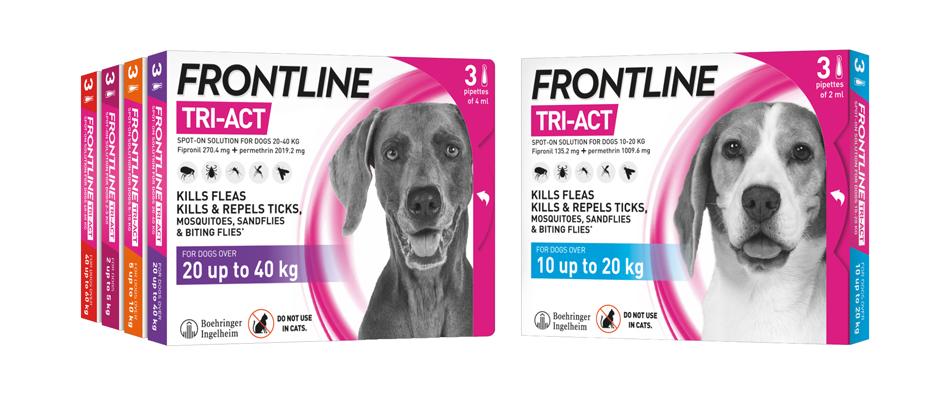 NEW Frontline Tri-Act Flea & Tick Treatment For Dogs
FRONTTRI
Give your dog a new level of parasite protection. New  FRONTLINE  Tri-act  FOR  DOGS  has  a  unique  formula  that  kills  faster  and  repels  more disease-carrying parasites than the next leading competitor brand. 
Used every 4 weeks, it is the  next  level  in  parasite  control  for  dogs,  providing  long-lasting  protection  against  flying insects as well as fleas and ticks whilst also preventing home flea infestations.
FRONTLINE Tri-act® FOR DOGS helps to keep your dog active, healthy and happy by working against a range of common UK parasites that can transmit diseases or cause irritation to your dog. 
Use every 4 weeks for optimal protection. 
KILLS
•Starts killing fleas in just 5 minutes1
•Kills newly arriving fleas and ticks on your dog within 6 hours and keeps working for the whole duration of treatment
•Kills mosquitoes, biting flies and sandflies
REPELS
•Repels ticks for 4 weeks
•Helps reduces the risk of tick-borne diseases
•Repels flying insects for up to 5 weeks to prevent them from biting
CONTROLS
•Prevents  a  flea  infestation  in  your  home  when  used  every  4  weeks  by  killing  fleas before they can lay eggs.
Clinically proven and formulated specifically for dogs, FRONTLINE Tri-act® FOR DOGS is also water-resistant after 48 hours –so your dog can enjoy occasional swimming and bathing and still stay protected.