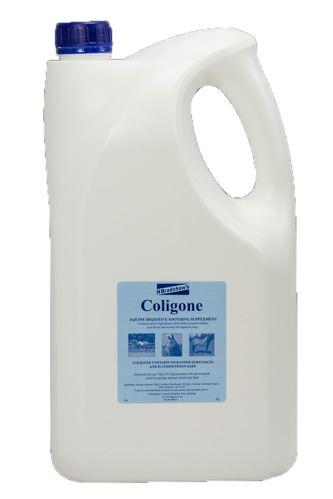 H Bradshaw's Coligone Liquid
A soothing liquid that promotes digestion and healthy acid levels in the gut.
Designed to be administered orally containing natural ingredients.
CONTAINS NO BANNED SUBSTANCES/ JOCKEY CLUB & FEI SAFE
Suitable for use when training, competing and travelling or during times of stress/ill health where the disturbance of the microflora has occurred with the digestive tract.
Ideal for use during periods where gastric acid levels are high and saliva production is low.
Designed to help with crib-biting, wind sucking, grumpy behaviour, napping, tucking up, bloated windy tummies, over indulgence on grass (over-fermentation of the hind gut and associated acidosis)  and poor performance in competition horses.
VETERINARY ENDORSED and routinely used for pre/post operative care in foals and horses.
Directions for Use
50ml Syringe to be administered orally or mixed with feed, twice a day, for 5-7 days, before reducing the amount fed to 30ml twice a day.