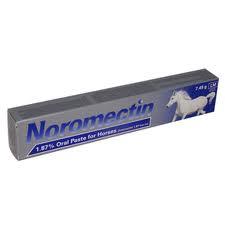 NOROMECTIN Paste
NOROM



 Noromectin 1.87% ivermectin paste for Horses kills the adult and larval stages of the important internal parasites of horses. These include small redworms which are resistant to benzimidazole-based wormers, the arterial stages of the large redworm, lungworms and bots. Noromectin 1.87% Oral Paste for Horses at the recommended dose rate of 200 mg ivermectin per kg bodyweight is indicated for the treatment of the following internal parasites of horses:
Large strongyles (redworms): adults and 4th larval (arterial) stages of Strongylus vulgaris, adults and tissue larval stages of S. edentatus and adults of S. equinus.
Adult small strongyles (redworms) including benzimidazole resistant strains: Cyathostomum catinatum, Cyathostomum pateratum, Cylicocyclus ashworthi, Cylicocyclus elongatus, Cylicocyclus insigne, Cylicocyclus leptostomum, Cylicocyclus nassatus, Cylicocyclus radiatus, Cylicostephanus asymetricus, Cylicostephanus bidentatus, Cylicostephanus calicatus, Cylicostephanus goldi, Cylicostephanus longibursatus, Cylicostephanus minutus, Cylicodontophorus bicornatus and Gyalocephalus capitatus.
Adult and immature lungworms: Dictyocaulus arnfieldi
Pinworms: Adult and immature Oxyuris equi
Ascarids: Adult and 3rd and 4th stage Parascaris equorum
Hairworms: Adult Trichostrongylus axei
Intestinal threadworms: Strongyloides westeri
Neck threadworms: Microfilariae of Onchocerca spp
Oral and gastric larval stages of stomach bots: Gasterophilus spp.
To ensure to ensure you have up to date information please click here to view the Summary of Product Characteristics (SPC) of this product on the VMD product information database
GTIN: 5023534003465
Bulk Discounts
| | |
| --- | --- |
| Qty | Price |
| 5 - 9 | £5.79 |
| 10 - 19 | £5.50 |
| 20 - 39 | £5.30 |
| 40 + | £4.95 |