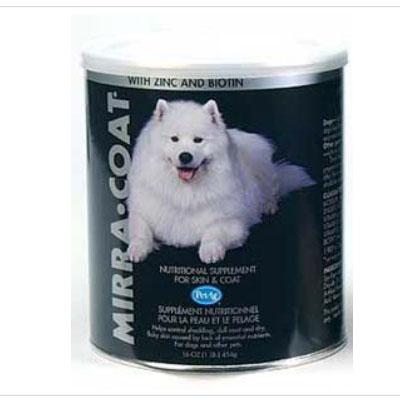 Mirracoat Powder for dogs 454g
MIRRACDP 454G
A nutritional food supplement for dogs and other animals to help control shedding, scratching, dull coat and dry flaky skin.
Use to restore skin and coat condition after treatment for non-nutritional problems such as parasites, trauma and allergies. Use to give that extra luster and beauty to dogs being conditioned for show or sale. Excellent supplement for short hair breeds. Improvements are seen within 2 weeks of use. 
Mirra-Coat contains the following: Essential fatty acids (EFA) - promotes cell membrane formation and improves skin barrier function, Vitamin A - prevents plugged hair follicles, Vitamin E - prevents cellular EFA oxidation - balances vitamin A concentration - activates EFA metabolism, Vitamin B6 - prevents dermatitis and hair loss - activates EFA and protein metabolism, Biotin - prevents scaly dermatitis and hair loss. Directions for use: Dogs- Add 1 tablespoon (7.5g) of Mirracoat Powder daily to an adult dogs food for each 20lb (9kg) bodyweight. Use half the recommended level for wirehaired breeds. These feeding directions should be doubled for young, pregnant or nursing pets.