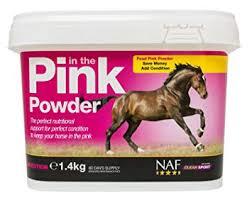 NAF In The Pink Powder
Using live yeast, vitamins, minerals and probiotics, NAF In The Pink Powder is especially formulated to promote perfect condition. Add to daily feed to nutritionally balance the diet with essential micronutrients and to provide key gut support. 
Ingredients:
Wheat feed, Brewers' yeast, Maize, Calcium carbonate, Dicalcium phosphate, Rapeseed oil, Whey protein powder, Carrot (dried), Sodium chloride, Fructooligosaccharides, Whey powder, Wheat protein, Maltodextrin, Beetroot juice, Magnesium oxide.