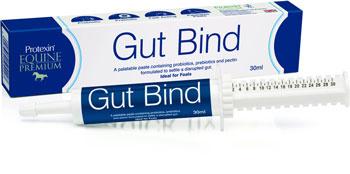 Protexin Gut Bind
A palatable paste containing probiotics, prebiotics and pectin formulated to settle a disrupted gut.
Replaces Pro-Kolin+ for Foals
Gut Bind is a two day course of probiotics, prebiotics, kaolin and pectin designed to settle a foal's disrupted gut. Also suitable for horses.
Gut Bind is available as a 30ml calibrated syringe.
Directions For Use:
Give 5ml to foals every 8 hours by mouth.