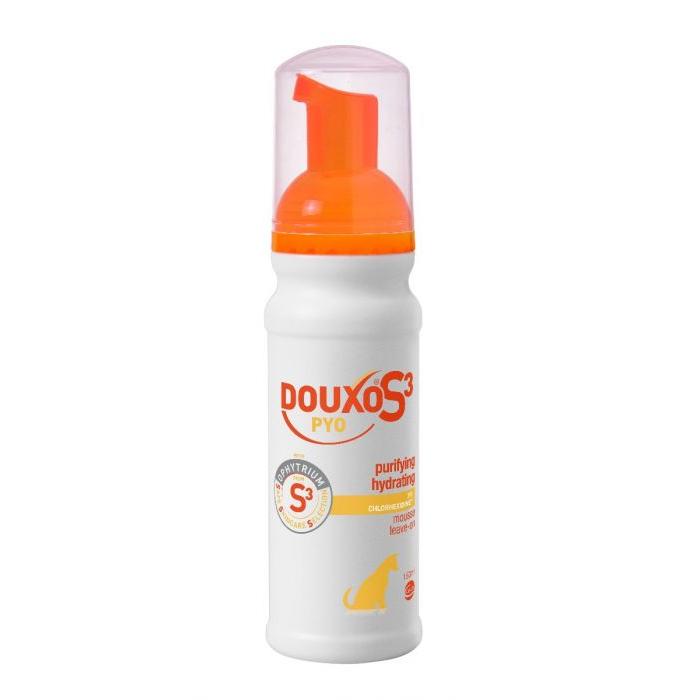 Douxo S3 Pyo Mousse 150ml
DOUXOPM
Directions:
External use only. Shake well before use. Apply DOUXO® S3 Pyo Mousse onto a dry and brushed coat. Dispense 1 or 2 sprays onto the hand and then apply the mousse to the animal, covering the whole body, avoiding areas around the eyes and mouth. Massage into the hair coat in order for the product to reach the skin. Do not rinse. Let air dry. Brush to bring a shine to the coat.
Use every 3 days. For maintenance, can be used only once a week.
Ingredients:
Ophytrium – a purified natural ingredient with high tolerance and threefold action on the skin barrier:
• Protects the mechanical barrier for supple, durable, hydrated skin
• Preserves the protective microbial flora for healthy skin
• Reduces irritation
3% Chlorhexidine digluconate – antibacterial and antifungal
Panthenol (Pro-vitamin B5) – moisturises the skin and improves wound healing
Pentavitine – provides hydration to the skin
Hypoallergenic Coco-Vanilla fragrance.
All DOUXO® S3 products are paraben, soap, sulphate, nanoparticle, colourant and phthalates free.