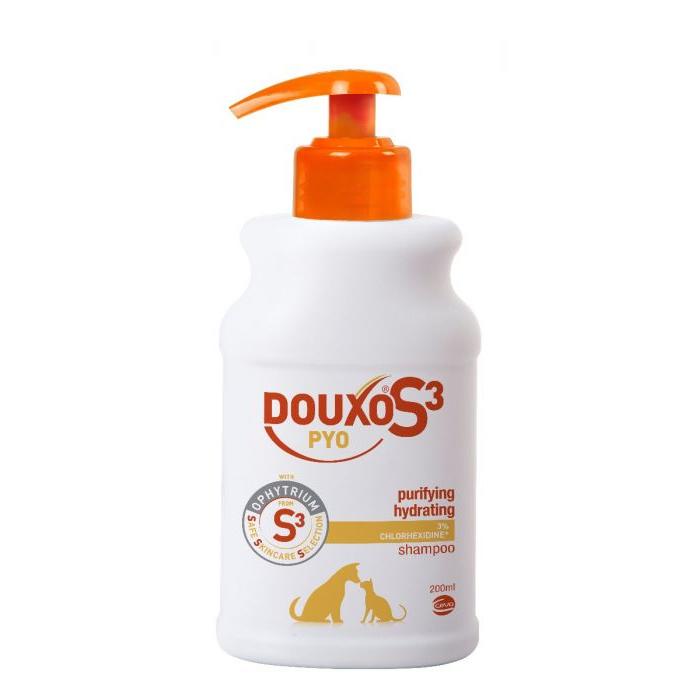 Douxo S3 Pyo Shampoo 200ml
DOUXOPS
Purifying shampoo for cats and dogs: cleanses and disinfects thanks to the antiseptic action of 3% chlorhexidine digluconate while hydrating and maintening the skin's ecosystem. Antibacterial and antifungal ecacy. Restructures, helps to detangle the fur and leaves the coat soft and shiny. For a regular and prolonged contact with Ophytrium and chlorhexidine digluconate, use DOUXO® Pyo Mousse
Directions:
External use. Wet the coat with warm water. Apply, massage and leave foam for 5 to 10 minutes before rinsing. Avoid the eyes. Repeat if necessary. One pump for 2 kg, double the application rate for animals with long and/or thick fur. 
Use every 3 days. For maintenance, can be used only once a week. 
Ingredients :
Ophytrium – a purified natural ingredient with high tolerance and threefold action on the skin barrier:
• Protects the mechanical barrier for supple, durable, hydrated skin
• Preserves the protective microbial flora for healthy skin
• Reduces irritation
3% Chlorhexidine digluconate – antibacterial and antifungal
Panthenol (Pro-vitamin B5) – moisturises the skin and improves wound healing
Pentavitine – provides hydration to the skin
Hypoallergenic Coco-Vanilla fragrance.
All DOUXO®S3 products are paraben, soap, sulphate, nanoparticle, colourant and phthalates free.