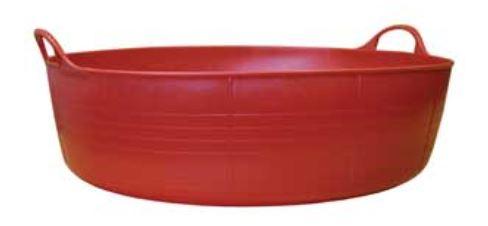 Red Gorilla Tubtrug Flexible Large Shallow 35L
100% safe for feed and water.
Ideal for feed, foot soaking and as a tight fitting lid for the XL.
Comfort grip handles, ideal for carrying in one hand.
 Chamfered edge fpr easy sweeping.
 Flexible sides for shaping against a wall or floor.
Super strong handle joints.
Made from food grade plastic.
Reinforced ribbing for extra strength.
Light weight design.
Diameter: 57cm / 23"  Height: 16cm / 6.5"
Weight 1.4kg
Capacity 35L